Corporate publishing in B2B offers a wide range of creative possibilities, media channels to play with, tools to use and goals to achieve for the company.
The possibilities seem so endless that even hardened marketing experts feel lost. With this guide, we would like to introduce you to the basics as absolute content marketing professionals and give you a kind of map in the corporate publishing jungle.
What is corporate publishing in B2B?
The term corporate publishing focuses on journalistic content. In a broader sense, this means that your readers (employees, customers or other stakeholders) derive added value from the publications. Dry product news or a simple (service) performance review does not fall under the term corporate publishing. Nevertheless, there must of course be a connection to your products or services. So this is indeed the supreme discipline in content marketing. It is therefore all the more important not to leave anything to chance.
Although corporate publishing (CP for short) is an English-language term, it is not used there with the usual meaning in the German-speaking world. What is called CP in the German-speaking world, i.e. the generic term for customer media and internal media of organisations, is called "corporate media" in the Anglo-Saxon world, but this term is used rather rarely. In the 1990s, the CP term was almost certainly invented in Germany. There is a lot to suggest that this happened in the Hamburg communications scene.
The difference to content marketing
Right from the start: there is no such thing as a completely sharp distinction! Rather, the term Content marketing born out of corporate publishing. Basically, however, it can be said that corporate publishing focuses on journalistic stories or specially prepared information about the company, while content marketing tends to focus on industry or product-related topics.
Another difference lies in the goals of the two marketing tools: Content marketing focuses on the presentation of expertise, reach and the generation of relevant sales leads. With corporate publishing, on the other hand, the focus is more on corporate awareness as well as the development and promotion of the company. Strengthening the corporate brand an.
The last point of distinction concerns the target group. Content marketing is usually aimed more at potential customers. Corporate publishing thinks much more broadly and includes all stakeholders and multipliers of a company, such as employees, shareholders, business partners and the press.
What are the goals of corporate publishing in the B2B sector?
Customer loyalty: The customer should be provided with added value through successful communication. In the best case, this is how you convince them of your company.
Branding/Image: The main components of B2B corporate publishing are brand building and the maintenance and consolidation of the image. Through high-quality journalistic communication, the company can convey its own values and competence.
Employer branding: Internal communication can also be a goal of corporate publishing in the B2B sector. For example, in the form of intranets, employee portals or corporate magazines. Transparent communication with one's own staff can give a strong boost to the bond and loyalty to one's own company.
Positioning as an opinion leader or expert: Show what you can do and what you know! Your readers and customers will see you in a much more positive light.
What B2B corporate publishing formats are there?
Like almost everything in corporate publishing, the individual measures are difficult to distinguish. In principle, however, the first step is to define the platform on which the publication is to take place.
Paid Media: paid formats or advertising, for example, ads, Google or social media ads or native advertising.
Earned Media: Publication of publications through press releases and/or other companies and organisations to the general public.
Owned Media: The publication of publications on the company's own channels such as the company website, its own magazines/newspapers or its own social media channels.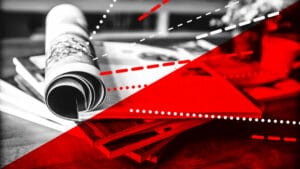 Caution: Only publications on owned media are actually considered corporate publishing. While paid media falls under the buzzword "advertising", publications in earned media are more likely to be classified as content marketing.
In the broadest sense, corporate media can encompass topics, formats and channels that are primarily likely to be assigned to other marketing disciplines. The following activities are typical for corporate marketing:
Customer magazine
Digital customer portal
Employee magazine
Digital employee portal
Corporate Books
Corporate Magazine
Corporate blogs
Apps (internal and external)
Why should it not be missing from the B2B marketing mix?
According to the Content Marketing Forum around 9.4 billion euros are invested in corporate publishing in the D-A-CH region each year. The biggest advantage printed works have is the haptic experience.
We humans are emotionally oriented. Holding a customer magazine in your hands conveys a feeling of high quality and exclusivity. Despite continuously advancing digitalisation, we always like to take the peace and time to leaf through a magazine and acquire qualitatively prepared information. Print media succeeds in generating trust like no other medium. Little will change in this respect in the future.
A haptic magazine for customers has special advantages: High-quality printing and quality underline companies' brand values and their appreciation of their customers.
What content is suitable for corporate publishing in the B2B sector?
Of course, content is crucial in B2B corporate publishing: reports, info-graphics, features or photo spreads - corporate magazines make use of journalistic craft as well as journalistic content formats in many aspects. Customers expect important and relevant information as well as entertainment and emotionally prepared stories. Furthermore, stories with which your customers can identify are suitable, such as solution-oriented user reports. Or you can provide interesting insights into the work of your employees or production. As you can see, creativity is in demand here, and there are (almost) no limits to it across all channels.
Let us inspire you with our corporate publishing best practices and success stories:
What you should pay attention to when creating a magazine
Although you can give free rein to your creativity when creating a corporate magazine, there are a few points you should pay attention to:
1. do you know your target group?
What topics are of interest to your buyers, your employees or your stakeholders? Take a close look at your target group. For example, you can talk to your existing customers and find out what information they still expect from your company and how you can prepare it in a useful way. What can be helpful here are so-called Content marketing personas be.
2. what matters is the content
As already mentioned several times, the cornerstone of corporate publishing is "journalistic preparation". Therefore, even a B2B corporate publishing product should never consist of so-called "self-congratulation" or exclusively about information about one's own company.
Also look for high-quality reporting and emotional elaboration of the content. If one report follows the next, it is not very exciting and the reader will quickly put your magazine aside. Take advantage of our corporate publishing best practice in the area of the Storytelling. We gladly take over this part for you too.
3. score with design
All print products live from the feel and content quality of the printed work. The visual appearance is not to be sneezed at either. The format, type of paper (matt or glossy), grammage and binding must be decided. In addition, the use of professional Graphic Design can be decisive for the success or failure of a campaign or the launch of a new product. Also this Part we will gladly take care of for you.
4 Continuity is Key
Your corporate publishing media should appear at regular intervals. Therefore, even before the first issue, plan the frequency of the print format. Take into account your capacities and resources, holidays and sick leave. You also have to plan ahead when it comes to rubrics and topics. Is there enough material here - also for the coming issues?
Hopefully, this has whetted your appetite for your own magazine. The best tip comes at the end: Don't leave your new print product to chance, but rather to the professionals. The Corporate Publishing Offer of our agency offers you many opportunities to deliver high-quality content to different stakeholders.