Synthomer, the leading manufacturer of emulsions and special polymers, is celebrating its 50th anniversary. The birthday wish: a big yearbook. Thanks to creative minds from B2IMPACT, it becomes more than just a yearbook - it becomes a journey on the river of time.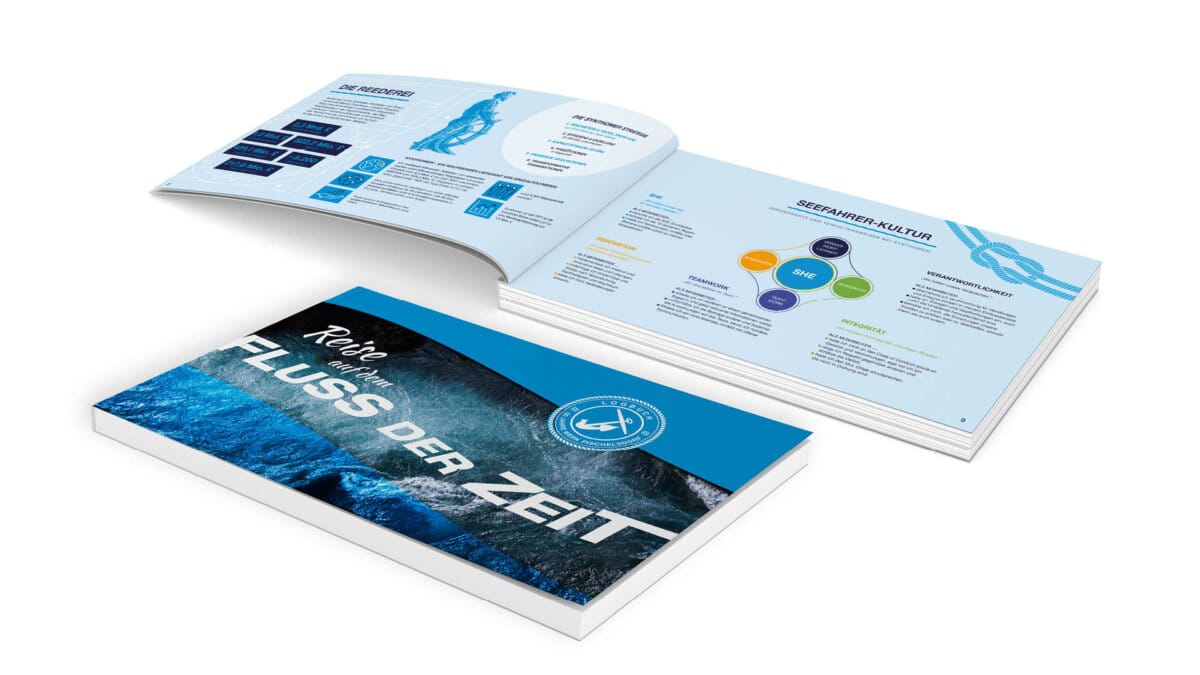 The international chemical company and one of the world's leading suppliers of latex and speciality chemicals has more than 35 sites worldwide and 4,750 employees. These figures clearly indicate that we are talking about a chemical giant with a long tradition and complex history.
Now the anniversary of the Austrian location of Synthomer in Pischelsdorf is just around the corner. For this occasion, a comprehensive yearbook is planned, in which above all the numerous staff members can be found again and again, and which will be gladly taken to hand even beyond the anniversary year.
Firstly, what is the best way to compress such a big story into a yearbook? Secondly, although yearbooks are a pleasure to read, they unfortunately often gather dust quite quickly in a corner. It was therefore immediately clear to the experts at B2IMPACT: the concept for Synthomer must be convincing in the long term.
Nautical theme convinces
Inspired by the former company name "Donau Chemie", the idea of a logbook was born. The foreword was written by the managing director alias the captain himself, the former employees became sea bears without further ado, telling their favourite anecdotes, and the active "crew", who steered their company ship through the rough (business) sea world, can be found in numerous old company photos. The large logbook also gives readers interesting insights below deck, where the sustainability programme, priorities, goals and visions until 2030 can be found. The company's biggest catches clearly illustrate that Synthomer is up to all the tricks in the waters of polymers.
When creating the yearbook, we followed the compass - the yearbook should not only make the readers proud of themselves and their company, but also be picked up often and shown to family and friends.
The nautical theme and the demand for content clearly showed that we were not off course: "The cooperation with the B2IMPACT team was professional, constructive and above all creative from the first contact to the submission of the concept, so the decision was easy for us. We are looking forward to the cooperation and of course to the result," says Christof Brunnthaller, Site Manager & Managing Director at Synthomer.
Company that makes history
Synthomer is one of the world's leading suppliers of waterborne polymers. The polymers help customers develop new products and improve the performance of existing products in key industries such as coatings, construction, textiles, paper and synthetic latex gloves.
With the acquisition of Omnova Solutions in 2020 and Eastman's Adhesive Resins business in 2022, Synthomer expanded its global manufacturing network, broadened its product portfolio and strengthened its geographic presence to better serve new and existing customers around the world.
Read more about our corporate publishing offer here: Corporate Publishing