B2IMPACT
Content Marketing Agency in Vienna
You expect from your marketing: impact and result. You get from our B2B agency: exactly that.
B2B Marketing Agency Services
B2B marketing for industry, technology or the pharmaceutical industry is our profession. We develop projects tailored to your needs and target groups and cover the entire product spectrum. In doing so, we find individual marketing solutions for your company.
Whether Content marketing, Social media, Corporate blogs, Corporate Publishing, SEM, Video, Graphic or Event - we produce business to business campaigns for impact and results. Because what works is right.
The B2B agency from WEKA Industrie Medien. Your agency for industry and production, construction and building technology as well as automotive and pharmaceuticals.
Corporate blogs provide relevant content on topics that affect your business. They start the customer journey of potential customers. Build trust and position yourself as an expert - your offer becomes tangible! Together with good SEO optimisation, your B2B blog will lead the search results and bring you leads.
Trade fairs, congresses, conferences, webinars and much more - our team creates an experience for your participants. We create customised B2B events with you, including consulting, conception, procurement, set-up and support. Whether live, virtual or hybrid corporate events - choose the right package.
Video production and podcasts
We offer video production, an 80 square metre studio, our own podcast room and concentrated know-how in B2B video and podcast production. Use our green screen for individual and branded videos. You get talk shows, presentations and image videos for your company in the best quality.
B2B marketing for your business
We help your offer have more impact
Use the services of our B2B advertising agency for your marketing goals. We help your company gain more visibility and give complex products or services the attention they deserve.
You wish, we deliver: Consulting, strategy, design, media, implementation & visualisation, project management, reporting. Whether traditional solutions, hybrid or purely digital marketing, our Agency from Vienna plays the The entire range of B2B marketing.
The core of our offering is B2B content marketing in all its forms. In print, we serve the demanding target audience of trade media and publications. Online, we increase impressions, leads and conversions in many forms. Specialist portals, whitepapers, website content or blog posts, social media coverage or performance marketing - we find the right content for you. The right B2B marketing mix for your business.
We build on appreciative, professional and goal-oriented cooperation with you as our client. Call us for Comprehensive projects or creative campaigns on board. We scale your B2B marketing campaign and strengthen your brand.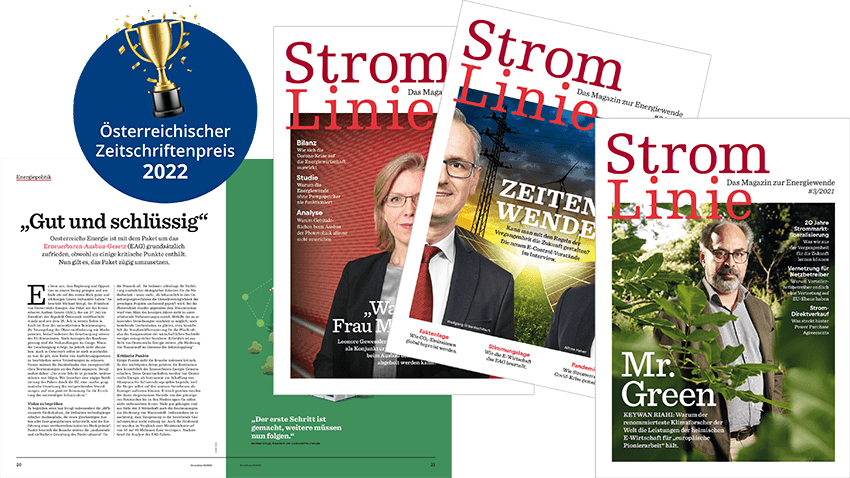 Success Story: StromLinie
The magazine on the energy transition in a new look
At the beginning of 2020, we, WEKA Industrie Medien, were awarded the contract for the relaunch of the print title "StromLinie" thanks to a fresh, "magazine-heavy" concept. Since 1993, Oesterreichs Energie has been using the magazine to inform its stakeholders about hot topics concerning the country's energy industry. The strength of the magazine's content was now to be expressed visually through a fresh coat of paint.
Of oxygen, special gases and lead generation
What do oxygen, specialty gases and lead generation have in common? You may be asking yourself this question now that you have read the title. The answer is quite simple: nothing at all - unless you are a professional in content marketing. Thanks to the interaction of blog articles, white papers and social media, new leads are generated.
B2IMPACT for successful marketing of B2B companies
The power lies in the niche. As a unit of a publishing house that publishes printed and digital trade media for the logistics, automotive, construction & building and industry sectors, we know about the content needs of a B2B audience that expects usefulness and orientation from texts. Positioning good stories in thematic niches is our job - and your added value when you commission us to create effective stories.
"To achieve your communication goals, we always choose the most direct route, because right is what works."
Nicole Fleck
Agency Management Austria