With around 140 pages, it is the largest print project of the B2IMPACT agency to date: the anniversary book of the Heat Pump Association Austria. Read here how we were able to convince the client of our concept.
The Heat Pump Association Austria celebrated its tenth anniversary in 2022 with a grand ceremony in June. To mark the occasion, the association launched the Unit Corporate Publishing of the agency B2IMPACT with the planning and realisation of the over 140-page anniversary book.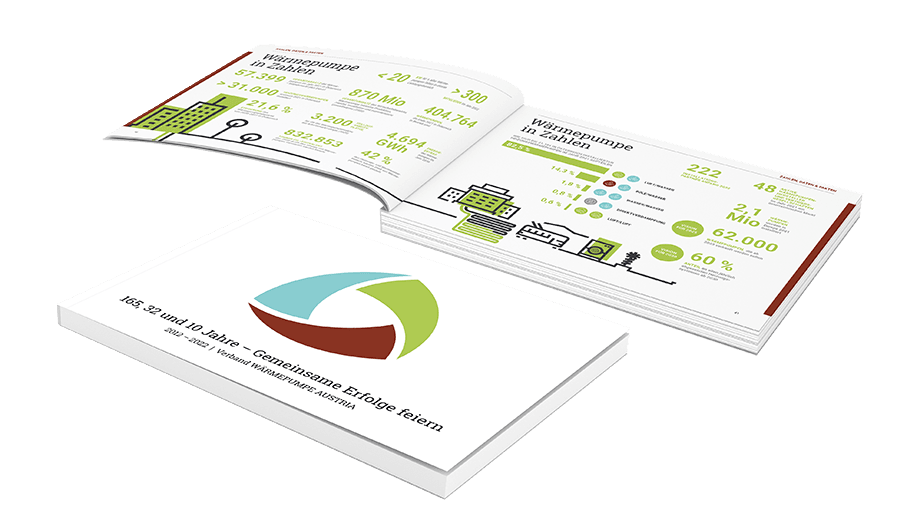 Fun facts for industry insiders
If you think that the heat pump is a modern heating and cooling system of the modern age, you are wrong. For its beginnings date back to the 18th century and can be found in our own country. Packing interesting and curious facts like these into entertaining stories, as well as looking beyond the end of one's nose, surprises even the most experienced experts and is just one of the strengths of the experts at B2Impact.
This is exactly what convinced the Heat Pump Association Austria of the concept for the anniversary book. Association President Richard Freimüller: "Our anniversary book for the tenth anniversary of our foundation is naturally very close to our hearts. Reliability and competence in the implementation of this project were therefore two important decision criteria for us. In our opinion, the experts from B2IMPACT fulfilled both points brilliantly."
Who is the association?
The Heat Pump Association Austria (WPA) is an industry association based in Linz that covers the entire value chain. The association was formed in spring 2012 through the merger of the former "Bundesverband Wärmepumpe" and the "Leistungsgemeinschaft Wärmepumpe". Currently, more than 90 % of all heat pump manufacturers in Austria, all electricity supply companies through the "Österreichs Energie" association and supplier and drilling companies are organised through the WPA.
How do you get your anniversary book?
Together with our experienced editors, we plan the content, create a page dummy and find the right paper for you from our printing partners. Of course, we keep a close eye on your budget.
We create a schedule and take care of the printing date. If you wish, we can write the content completely ourselves or edit material that you provide us with. Our in-house proofreading team will not miss even the smallest typo. We take care of all approvals and accompany you on the way to your anniversary book.
Do you feel like immortalising your company history on paper?
Then let yourself HERE inspire us or send us a non-binding enquiry: daniela.purer@industriemedien.at